Pair Lobster Tail or Shrimp Scampi With Prime Rib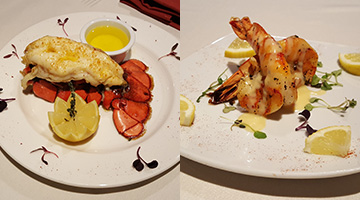 To enhance your dining experience in the Prime Rib Loft, consider adding a Lobster Tail or Loft Scampi to your dinner entree selection in the Prime Rib Loft. Lobster or shrimp will pair nicely with our featured 21-Day Dry Aged Prime Rib of Beef Cuts.
Add 7 oz. - 8 oz. Canadian Lobster Tail to any Entrée or Prime Rib $20
Add Two Pieces of Loft Scampi to any Prime Rib Cut $10
Make your reservation for dinner today. Reservations Suggested.
Call 702.365.7111 or Find A Table Online Above