Prime Rib Loft Chef Features Filet Medallions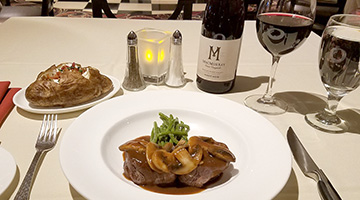 Prime Rib Loft's Chef Larry Bonner will feature every Monday and Tuesday in July, Filet Medallions topped with Mushroom Demi-Glace. Entree will include a Loft Salad and Baked Potato.
$32
The featured Filet Medallions entree will pair nicely with a bottle of MacMurray Ranch Pinot Noir. Your server will be happy to share Prime Rib Loft's selected list of wines by the bottle and glass.