Chinese Favorites Starting at $9.95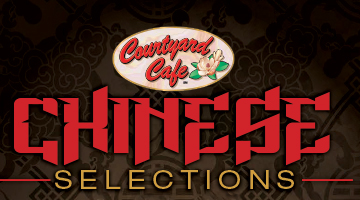 Come to the Courtyard Cafe for all your favorite Chinese selections from 11:00am until 10:00pm.
Rice & Noodles
Combination Fried Rice
- Shrimp and BBQ Pork for $9.95.
Chicken Chow Mein
- Yakisoba Noodles, Chinese Vegetables, Chow Mein Noodles for $9.95.
Singapore Noodles
- Shrimp, Rice Noodles, Curry for $9.95.
Wor Won Ton Soup
- BBQ Pork, Shrimp, Won Tons, Chinese Vegetables and Egg Noodles for $12.95.
Chinese Combinations - Served with White Rice and Eggroll
Kung Pao Chicken
- Peanuts, Chinese Vegetables, Zucchini, Bean Sauce, Chillis for $10.95.
Sweet n Sour Chicken
- Tempura Chicken, Peppers, Pineapple for $11.95.
Mongolian Beef
- Fried Rice Noodles, Bell Peppers for $12.95.