2014 Wine Spectator Award of Excellence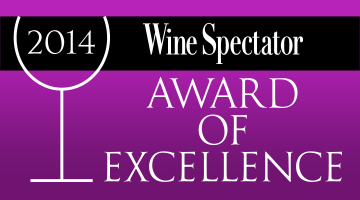 Wine Spectator's Restaurant Wine List Awards recognize restaurants whose wine lists offer interesting selections, are appropriate to their cuisine and appeal to a wide range of wine lovers.
To qualify for an award, the list must present complete, accurate wine information. It must include vintages and appellations for all selections, including wines available by the glass. Complete producer names and correct spellings are mandatory, while the overall presentation and appearance of the list is also taken into consideration. After meeting these basic requirements, lists are judged for one of our three awards.
Wine Spectator's "Award of Excellence" was created to give recognition to restaurants that meet the requirements of the Award of Excellence. Among the 2,791 selections for Wine Spectator's "Award of Excellence," the magazine's basic Restaurants Awards honor, chosen, according to Wine Spectator, for offering "a well-chosen selection of quality producers, along with a thematic match to the menu in both price and style. Typically these lists offer at least 100 selections." Awarded in 2014