The Temptations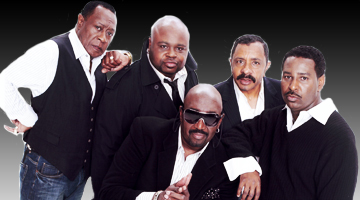 Date:
November 29 - 30, 2014
Cost:
Tickets from $34.95 plus taxes and convenience fees
For more than 40 years, The Temptations have shined as pioneers of popular music, with decades of smash hits and sold-out performances. An essential component of the original Motown machine invented by Berry Gordy, The Temptations began their musical career in Detroit in the early '60s. In 1964, Smokey Robinson wrote and produced "The Way You Do the Things You Do," the first major hit for The Temptations. An avalanche of hits followed, including "My Girl," "It's Growing," "Since I Lost My Baby," "Get Ready," "Ain't Too Proud to Beg," "Beauty Is Only Skin Deep" and "I Wish It Would Rain."

Beyond their fabulous singing, The Temptations became known for smooth stepping and flawless presentations. The Temptation Walk became the staple of American style, flair, flash and class.

When the '60s and '70s turned political, The Temptations got serious. They changed their tone, dress and music with such hits as "Runaway Child," "Cloud Nine," "I Can't Get Next To You," "Papa Was a Rolling Stone" and "Psychedelic Shack." The Temptations explosion continued in the '80s with their appearance on "Motown 25" in 1983, and into the '90s with an NBC mini-series in 1998 that chronicled the group's early days and rise to fame, earning them a coveted Emmy® Award. This April, the group performed on "Dancing with the Stars" as part of Motown Week.

Box Office: 702-284-7777 / 888-365-7111
You can also purchase tickets at The Orleans Box Office
| | |
| --- | --- |
| Sundays -Thursdays | Noon - 8:00pm |
| Fridays & Saturdays | Noon - 10:00pm |