Sinbad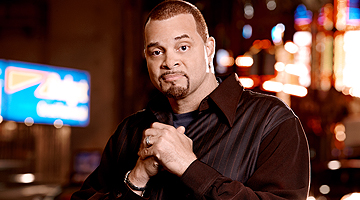 Date:
May 16 - 17, 2014
Location:
Cost:
Tickets from $49.95 plus taxes and convenience fees
Actor and Comedian Sinbad arrived on the comedy scene with a " hit'em in the face" style of comedy that has kept audiences laughing in the aisles for over the past two decades. He freely admits that he doesn't knows any jokes, except for the ones that his dad told him "back in the day". Sinbad tells stories, and boy does he tell stories! The basis of his humor comes from everyone he's meets, everything he's seen, and everything he's done.

Ranked by Comedy Central as one of the top 100 standup comedians of all time, Sinbad has built a loyal following by taking audiences' painful trials or embarassing tribulations of day-by-day life, throwing them back in their faces, and causing an uproar of comedic hysteria. He can also make it sound profound without being profane. Not that he's any kind of choirboy, but by being the son of a preacher man he decided to keep his comedy clean after his father attended one of his early performances. Up to that time he had been what he describes himself as "semi-dirty". Sinbad says that he learned that night that "funny is funny", and that masters of dirty comedy such as Redd Foxx, Richard Pryor and Lenny Bruce could all work clean without losing a step.

Sinbad has appeared on the FX Television series "It's Always Sunny in Philadelphia." Also, his long awaited stand-up special aired on Comedy Central this past February. Most recently, Sinbad was seen in the third season of NBC's Celebrity Apprentice.
Box Office: 702-284-7777 / 888-365-7111
You can also purchase tickets at The Orleans Box Office
| | |
| --- | --- |
| Sundays -Thursdays | Noon - 8:00pm |
| Fridays & Saturdays | Noon - 10:00pm |