Marshall Tucker Band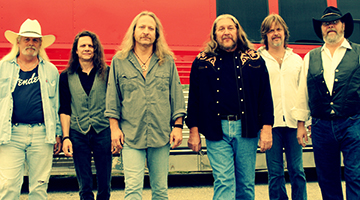 Date:
March 6 - 7, 2015
Cost:
Tickets from $29.95 plus taxes and convenience fees
The Marshall Tucker Band, originally founded by lead singer Doug Gray, got its start in Spartanburg, S.C. and debuted its first album in 1973. The platinum-plus album caught fire and spawned numerous hits, including "Way Out West!," earning the group a loyal following and numerous headlining engagements across America.

Throughout the last 30 years, The Marshall Tucker Band has influenced such country music groups as Alabama, The Kentucky Headhunters, Confederate Railroad, and Travis Tritt with its definitive blend of rock, rhythm & blues, jazz, country, and gospel. With hit singles "Heard It In a Love Song," "Fire On The Mountain," "Can't You See," and "Take The Highway," The Marshall Tucker Band has earned seven gold and three platinum albums. They also scored four hit singles on Billboard's country chart and one on Billboard's gospel chart.

The Marshall Tucker Band's music has been featured on numerous movie soundtracks, including "Smokey and the Bandit," "The Pursuit of D.B. Cooper," "Shipwrecked," "Crank 2," "Don't Mess with Zohan," "Stop Loss, Swing Vote" and "Taking Chance" as well as many television shows.

Box Office: 702-284-7777 / 888-365-7111
You can also purchase tickets at The Orleans Box Office
| | |
| --- | --- |
| Sundays -Thursdays | Noon - 8:00pm |
| Fridays & Saturdays | Noon - 10:00pm |