Jim Belushi & The Sacred Hearts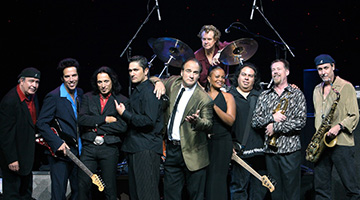 Date
October 31 & November 1, 2015
Cost:
Tickets from $39.95 plus taxes and convenience fees
The first thing you need to know about Jim Belushi is that he's a performer. Not an actor, not a comedian, not a singer, but a performer. Which is pretty much all those things put together and multiplied by two or five or something. The second thing you need to know- and this is in some ways more important than the first thing- is that he has absolutely no shame. None. Zip. Zero.

Add those two things together and you have a pretty good working definition of that most indescribable of qualities known as presence. And, as anyone who's spent two minutes with the guy knows, Jim's got it. Big time!

So here'Äôs this guy, this presence, disregarding any and all warning signs and diving into life headfirst. From the live stages of Second City and Saturday Night Live, to the soundstages of 'ÄúAbout Last Night'ÄĚ, 'ÄúK-9'Ä≥, 'ÄúMr. Destiny'ÄĚ, 'ÄúReturn to Me,'ÄĚ and, most recently, starring in ABC TV'Äôs breakout comedy series of 2002 'ÄúAccording to Jim'ÄĚ, he has taken everything life'Äôs thrown at him and hit it out of the park. And, by the way, he'Äôs been having a blast.

Speaking of 'ÄúAccording to Jim'ÄĚ, the hit series happens to be very heavily influenced by the Sacred Hearts. Jim and the boys wrote and recorded the music for the show, and John and Tony are regular members of the cast. Who the hell are John and Tony? We'Äôll get to that later.

So anyway, one day Dan Aykroyd asks him to join the Blues Brothers Band as Brother Zee- a possibly daunting proposition, even for Jim. Sure, he'd been on stage for years, but comedy and theatre are one thing (well, two things) but it's not like he'd ever fronted a blues band before.

However, in order to be completely shameless, one is required to be completely fearless, which Jim, of course, is, so he takes a beat, looks at Aykroyd and says the same thing he'Äôs been saying all his life. 'ÄúYeah, what the hell'Ķwhy not? Sounds like a whole lotta fun!'ÄĚ

So, to get ready to play with the Blues Brothers, Belushi crashes rehearsals of the House of Blues'Äô own band, The Sacred Hearts. He sits in with the band, laughing, acting, singing, dancing, in a word 'Äď performing. As it turns out, Jim was right because those rehearsals were 'Äúa whole lotta fun.'ÄĚ So much fun, in fact, that for the last seven years the band has been Jim Belushi and the Sacred Hearts.

They've played for Al Gore, Governor Gray Davis and many other politicos. President Clinton is a really big fan and since one of these days he's going to be out of a day job, he'll probably want to sit in (Jim says he'll consider it). They play all the House of Blues venues, all the casinos, many benefits and hundreds of corporate events for the Fortune 500 companies. Word on the street is if it's going to be a tough audience, get Jim Belushi and the Sacred Hearts . . . a butt hasn't been born that can stay in a chair through their first set.

For those who like their Rhythm & Blues seasoned with a lot 'Äėo soul with a Memphis sound, but who aren'Äôt on the White House guest list, the music is now available on the band'Äôs first CD, 'Äú36 x 22 x 36'Ä≥ (Platinum Records).

Belushi sings, talks, flirts (again, completely shameless), dances on table tops and does at least one back flip every show.
Box Office: 702-284-7777 / 888-365-7111
You can also purchase tickets at The Orleans Box Office
| | |
| --- | --- |
| Sundays -Thursdays | Noon - 8:00pm |
| Fridays & Saturdays | Noon - 10:00pm |