Don Rickles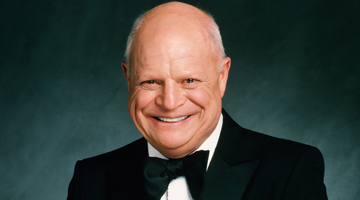 Date:
October 11 - 12, 2014
Location:
Cost:
Tickets from $79.95 plus taxes and convenience fees
Having earned the nicknames "The Merchant of Venom" and "Mr. Warmth," (the latter coined affectionately by Johnny Carson), Rickles' style of comedy is never mean-spirited and all part of his act. It has been said that being "zinged" by Rickles is like "wearing a badge of honor."

Rickles took his first step toward national fame in 1957, when Rickles spotted Frank Sinatra in the audience at a nightclub in Miami Beach. The still-unknown Rickles eyed Sinatra and said, "I just saw your movie, 'The Pride and the Passion,' and I want to tell you, the cannon was great. Make yourself at home, Frank. Hit somebody." Sinatra, whose pet name for Rickles was "bullet-head," enjoyed Rickles so much that he returned to see him when he was performing in Los Angeles, and encouraged other celebrities to see his act. Rickles soon became the "in" comic among Hollywood stars, who flocked to see him to become a target of his insults. Sinatra's continuing support helped Rickles become a popular performer in Las Vegas, where he first started in 1959, and has been a headliner ever since.

Shortly after being discovered by Sinatra, Rickles made his acting debut in 1958's "Run Silent Run Deep." The movie was a hit, launching Rickles towards a celebrated career as a movie, television and theater actor. His still-growing television and film resume includes roles in "Casino," "Kelly's Heroes," "The Rat Race," all three "Toy Story" films, HBO's "Tales From the Crypt," and Bravo's "My Life on the D-List" with Kathy Griffin. In 2011, he made a surprise appearance in a "cliff-hanger" episode as the "thought to be dead" husband of Betty White's character on the TV Land comedy "Hot In Cleveland." Later in the year, he returned to the show for the "payoff." He recently appeared on Showtime's new series "Inside Comedy," where fellow comedian David Steinberg interviewed him. In 2000, Rickles received one of the highest honors in the entertainment business, when he received a star on the famed Hollywood Walk of Fame.

Rickles has received two Primetime Emmy® Awards, including Best Individual Performance in a Variety or Musical for the 2008 HBO special "Mr. Warmth: The Don Rickles Project." In 2009, cable network TV Land honored Rickles with the "Legend Award." Rickles' best-selling memoir "Rickles' Book" was released in 2007, and was followed up with the 2008 title "Rickles' Letters."

In spring 2012, Rickles joined David Letterman as the only performers to receive the prestigious "Johnny Carson Award for Comedic Excellence" at The Comedy Awards, aired on Comedy Central. The award was presented to Rickles by Jon Stewart and Robert DeNiro.
Box Office: 702-284-7777 / 888-365-7111
You can also purchase tickets at The Orleans Box Office
| | |
| --- | --- |
| Sundays -Thursdays | Noon - 8:00pm |
| Fridays & Saturdays | Noon - 10:00pm |