Rick Duarte and Amy Lynn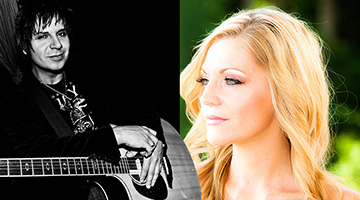 Date:
June 11, 22 & 25, 2017
Cost:
Free Admission
| | | |
| --- | --- | --- |
| Sunday, June 11, 2017 | 6:00pm | |
| Thursday, June 22, 2017 | 6:00pm | |
| Sunday, June 25, 2017 | 6:00pm | |
Rick Duarte is an entertainment entrepreneur and self-taught artist/entertainer that has staked his claim in his native town of Las Vegas with his eyes on the world. From the humble grass roots of the local music scene, Rick created the most attended open-mic event in Vegas history. As a result, Rick Duarte was celebrated as a "Local Hero" by the Las Vegas Weekly in 1999 for the impact his efforts made on the local music culture. On the heels of this success, he turned his sights higher and organized the first independent showcase of local artists on the Las Vegas Strip called Acoustic Asylum.

Amy Lynn is a Las Vegas based lead vocalist with a passion for pop, country, and rock music that has led her to fronting her tribute to the Black Eyed Peas called "Black Eyed Tease". She is one half of the Rick and Amy acoustic duo and lead singer for local country band Wolf Creek. In any genre of music her voice carries a delicate yet powerful presence and a reverence for every song she sings.