AEGIS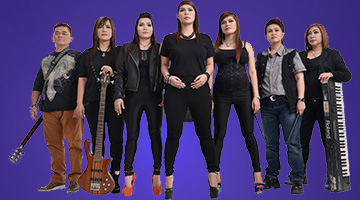 Date:
July 29, 2017 7:00pm
Cost:
Tickets from $53
LET included, plus fees.
Buy Tickets
Now graced by 7 members, one of the most popular OPM bands- six girls and a man is now the New and Enhanced AEGIS Band.

The original members include Juliet Sonot and Mercy Sunot-Borjal, the lead vocalists, came all the way from Cagayan de Oro City. Stella Maries Galindo-Pabico is from Misamis Occidental. Vilma Goloviogo is from Manila, while bass guitarist Rowena "Weng" Pinpin-Adriano is a Pampagueña. The lone male member, Rey Abenoja, hails from Southern Leyte. The newest member of AEGIS is the youngest sister of Juliet and Mercy, KRIS SUNOT who, of course, is also from Cagayan de Oro.

Why is the band called AEGIS?
There are actually two reasons why the group has opted for the name AEGIS. First, the group was formerly known as AG's Sound Trippers. AG's was the name of their manager's company coined from their last names Abenoja-Galindo. But, since the band name was too long, they opted to go for AG's or in other words AEGIS. Second, the literary meaning of AEGIS is "Shield" or "Protection" from the Greek Mythology used by Zeus (Greek father of gods). The group decided to adapt this word as the name of their band, because it expresses what they want to share to their listeners, to feel when they listen to their songs, that of being "protected" and "shielded" from being lonely. Most of the songs they chose for their album are love songs. They are hoping that lovers will find their songs as a protection from being lonely and broken-hearted.
Box Office: 800-745-3000

You can also purchase tickets at The Orleans Box Office.
| | |
| --- | --- |
| Daily: | Noon - 8:00pm |
| Performance Days: | Noon - 9:00pm |