2015 World Wrestling Championships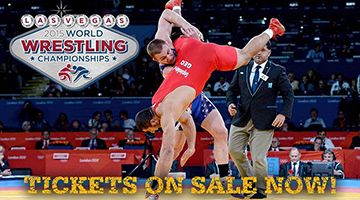 Date:
September 7 - 12, 2015
Cost:
Single Day Tickets & Tickets Only Packages Available plus taxes and convenience fees
Having Trouble Buying Tickets Online?
Are you from outside of the United States?

For tickets call 1-702-284-7777
Need A Hotel Room?
Book your hotel stay with special room rates at The Orleans Hotel & Casino
Book Now
Or please call 1-800-675-3267 and use code A5WRC09
Monday, September 7, 2015
10:00am
Monday only tickets
Tuesday, September 8, 2015
10:00am
Tuesday only tickets
Wednesday, September 9, 2015
10:00am
Wednesday only tickets
Thursday, September 10, 2015
10:00am
Thursday only tickets
Friday, September 11, 2015
10:00am
Friday only tickets
Saturday, September 12, 2015
10:00am
Saturday only tickets
Come see the world's best from more than 100 countries at the 2015 Wrestling World Championships! For the first time since 2003, the Wrestling World Championships are being hosted in the United States, and the competition will take place September 7-12, 2015 at the Orleans Arena!

This is a tremendously important event in international wrestling, as it serves as the first qualifying event for the 2016 Olympic Games in Rio de Janeiro, Brazil, as well as the event in which the largest number of athletes earn a spot at the Olympics.

Competition in all three Olympic styles of international wrestling will be held: men's freestyle, women's freestyle and Greco-­ā€Roman.

The 2015 World Wrestling Championships will be presented by FILA, USA Wrestling, the United States Olympic Committee and Las Vegas Events.

Box Office: 702-284-7777 / 888-234-2334
All packages will be charged the full package price at the time of the reservation. Ticket prices are non-refundable ($372.50 per person). Reservations canceled 30 days or less prior to arrival will forfeit the entire package price. Extra nights available at prevailing rate. Management Reserves All Rights. Reservations available during Room Reservation Hours (Daily 7:00am - 11:00pm PST).